Create BuzzFeed like quizzes on your WordPress website or blog. OnionBuzz plugin lets you add beautifully designed and responsive viral content using shortcodes or custom post types. It's an easy to use and works with any WordPress theme!
Nowadays, nothing is as sharable as a nice quiz. Quizzes are the best way to engage your audience and it also delivers a lot of benefits for WordPress website owners. People spend time interacting with quizzes because it's fun and exciting. As a result they spend a lot of time on your site.
Despite the fact that OnionBuzz is designed for entertainment, this plugin is also a great tool for creating various knowledge tests. Check the knowledge of your audience on various topics, including geography, languages, cooking and others.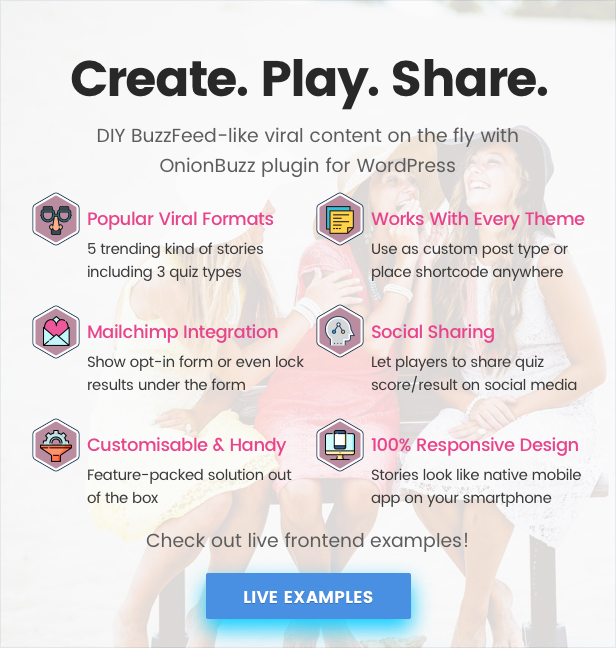 Features
Popular Post Types

— Trivia, Personality and Checklist quiz types, Lists & Ranked Lists, Flip Cards. Coming soon more!
Feeds (categories) — Create as many categories as you need. Add them as widget for content filtering.
Leaderboard

— Display attractive Trivia Leaderboard widget. Engage your audience to compete and spend more time on your website.
Sharing buttons — Share quiz score with friends on popular social networks.
Gather subscribers

— Add and customize Mailchimp opt-in form using plugin settings. You can even lock quiz results under the form!
Social locker — Force to share quiz on social networks to unlock quiz results.
Advertising

— Mix your stories with AdSense, image banners or custom code ads. Different ad locations are available for any needs.
Quiz statistics — Learn more about players and each play using internal back-end stats.
Quizzes Answer Types

— List, grid (1-4 per row), match (Trivia only).
Integration options — Use as native plugin's feed or/and embed quiz with shortcode.
WordPress widgets

— For your feeds and stories.
Thoughtful design — OnionBuzz was designed for the best experience with any well-coded theme. Additionally, customize UI colors to match your site without coding.
Quiz layouts

— Display quiz as full list or compact slider with one question per screen.
Question ordering — Display user-defined or randomized questions order.
Post-answer options

— Let you display correct answer content after player makes choice or keep intrigue.
Translation ready — Use Loco Translate or similar tools to translate plugin on your language. Then you can send translation files to us!
100% Responsive

— Have fun playing OnionBuzz on any device!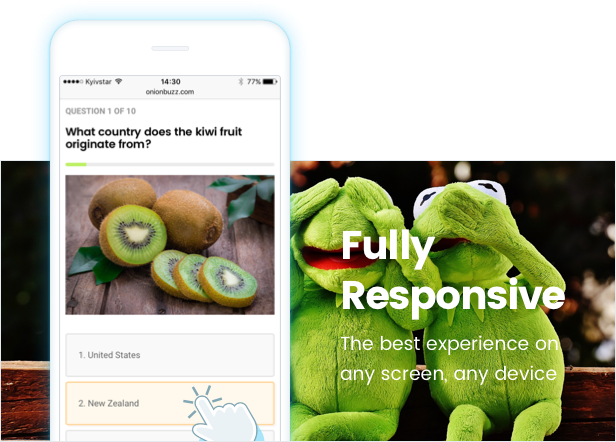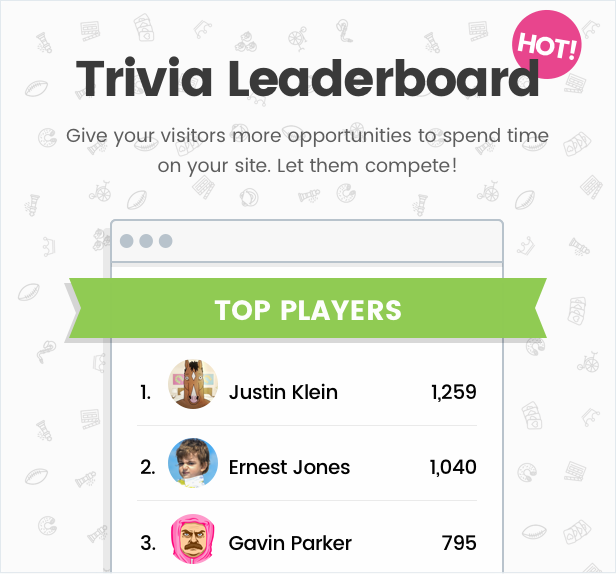 OnionBuzz plugin made by elite CodeCanyon author and is in active development stage currently. Purchase OnionBuzz now and get all upcoming updates for free!
WordPress Shortcodes
Using shortcodes with WordPress blog posts you need to add featured image, title and description for the post in addition. While with native OnionBuzz custom post types you need to fill the story only. Benefits of shortcodes are that you can add stories anywhere on your website. But with native plugin features you have less worries with formatting. And the great thing is that both methods work great together on one website.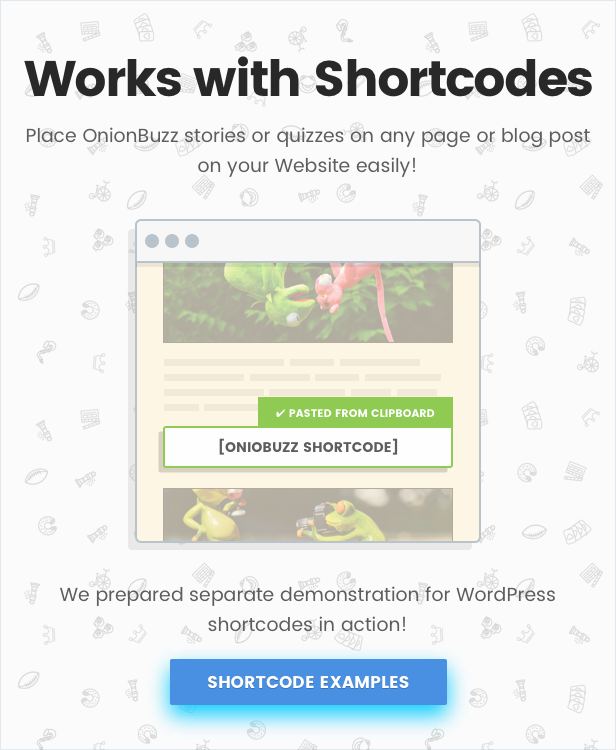 Marketing Tools
OnionBuzz lets not only to create awesome viral content for your website. You can use the plugin to achieve your marketing and business goals. Grow your website in all possible directions, get more subscribers, shares, improve site metrics and more. OnionBuzz really helps to make your website works and increase profit!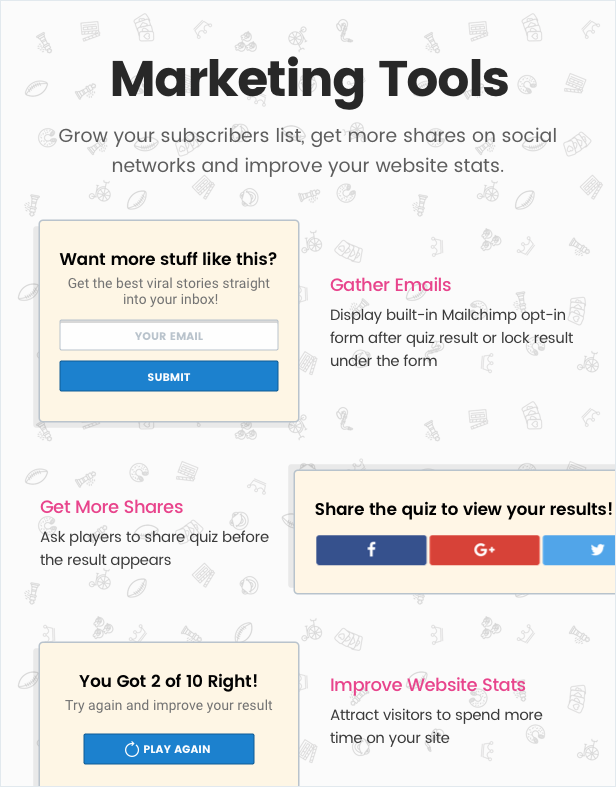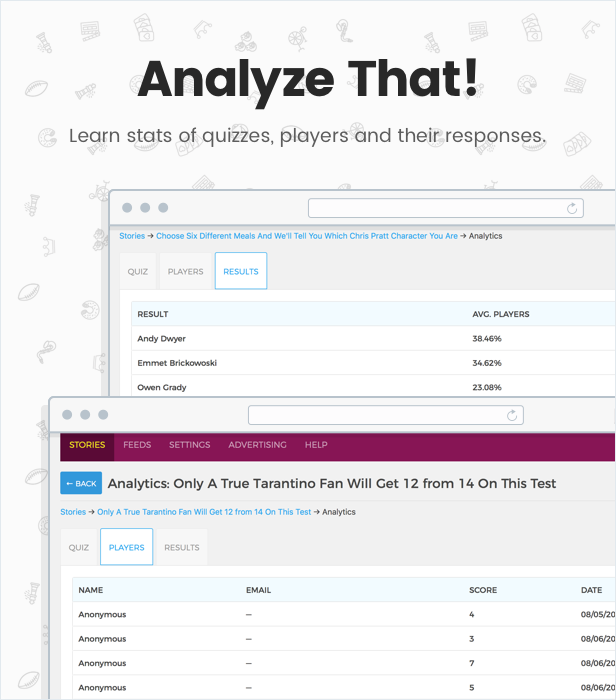 Advertising
It's easy to advertise or run marketing campaigns with OnionBuzz. Store AdSense ads, image banners or any custom code ads. And decide where to display your ads. Easy as 1, 2, 3!
Ad locations
After each story
Before each story
Under the result area of quizzes
After each X quiz questions or story items (e.g. 'items' mean list items in Ranked lists or so)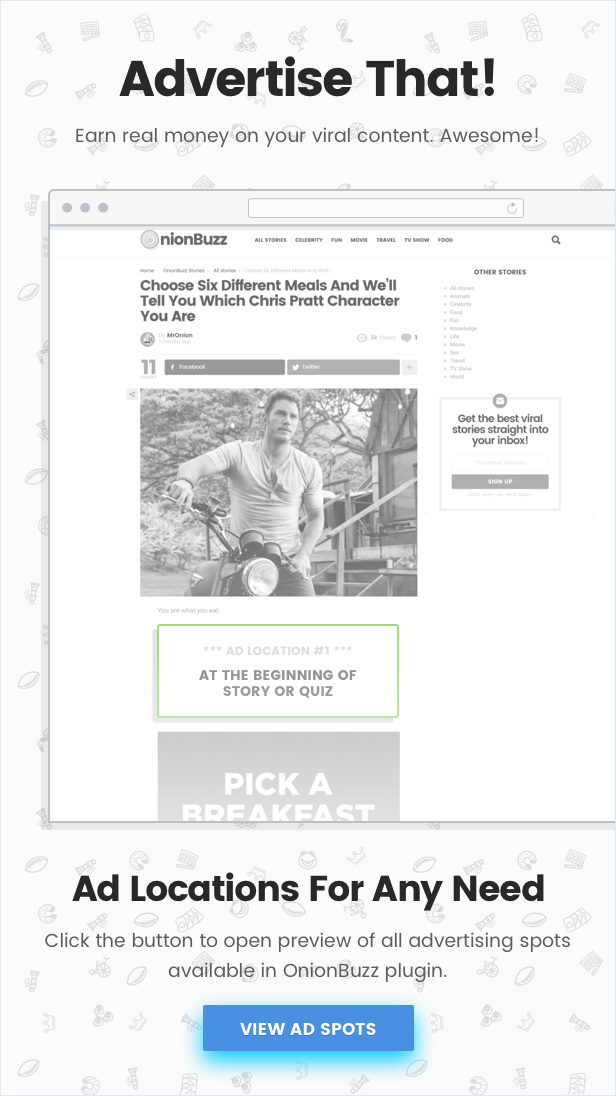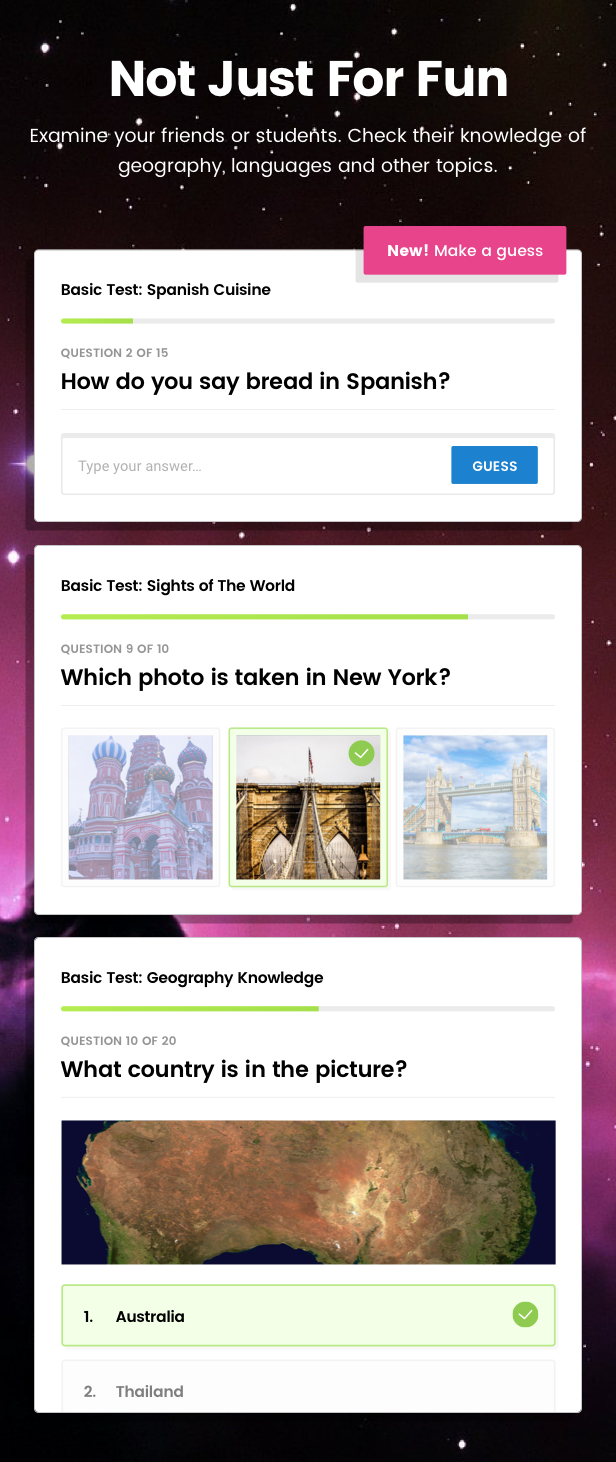 Requirements and Limitations
Only one shortcode per page is allowed. No limitations for custom post types though.
Facebook doesn't allow to share custom

title, description and images since Graph API 2.9. So, It's NOT possible to share quiz results on Facebook since July 17, 2017. Which means developers can't customize Facebook sharebox anymore. The quiz page will be shared instead. Meantime, we applied small workaround so you would be able to share result titles inside the sharebox.

Screenshot
Learn more:

Facebook official announcement
RTL is not supported currently.
We didn't make tests for multisite compatibility.